Newspaper Bulletin Boards | Swing Open Cases for Periodicals
---
Black, Mahogany, Cherry, Oak and Silver Bulletin Boards for Newspapers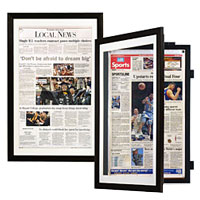 Need a way to display important articles and other prints? These newspaper bulletin boards are great for exhibiting any inserts with their modern appearance. Each case has a strong wood or aluminum construction with a backing made of self-healing cork. This type of newspaper bulletin board, or newsprint frame, features a simple design that will accentuate any notice without distracting from it. They can be used in a school to show of its winning team, an office to display the company's achievements, or even a restaurant for a review write up. These newspaper bulletin boards allow anyone to cleanly showcase any announcement or article! Although sized to fit newspaper pages, these wall mounts can be used to display other printed media.
What makes these newsprint frames an ideal choice for showcasing a journal?
Each newspaper bulletin board has an enclosed design that deters tampering.
These enclosures feature a swing open door that makes it easy to modify exhibits.
This type of holder includes a clear cover made of acrylic that prevents damage to prints.
While all of these swing open bulletin boards are backed with self-healing cork, they are available in a variety of styles. They come in with a wooden or aluminum case offered at the same price. These newspaper bulletin displays feature a neutral finish of black, mahogany, cherry, or natural oak. When using these wall mounted notice fixtures, they cannot be exposed to inclement weather. They must be placed indoors or sheltered from the environment if placed outdoors.
Some bulletin boards come with the option of a locking design. This lock allows the user to keep printed media secure from tampering and theft. Each locking cork board comes with an included key that opens the enclosure. These fixtures for notices are suitable for placement in high traffic areas, such as restaurants, school hallways, hotel lobbies, libraries and recreational facilities.
These swing open newsprint frames feature a viewable area of 11.5" x 22" or 11.8" x 21.8". One type of notice board includes a white mat that will accentuate their contents. Newspaper bulletin displays with locking options feature black or silver matting that matches the rest of their design. Each wall mount only protrudes 1.6" from the vertical surfaces making them excellent for any throughway or school lobby. They can accommodate any paper measuring up to 0.25" in thickness.
What else can these newsprint frames be used for? These cork surfaces can be used in offices to showcase important information about events and job openings. Cases like these can also be used in a residential setting to keep important documents and achievements like diplomas, awards and articles in a combination display. Notice fixtures can also be used in schools to showcase student projects like posters and collages. Any sports fan will appreciate these holders because they can be used to commemorate historic wins and other events. Any memorable document can be framed in these corkboards to last for years. For quick shipping, buy online at CorkBoards2go.com!