Magnetic Bulletin Boards | Swing Open Loading Door
---
Bulletin Boards with Magnet Receptive Surfaces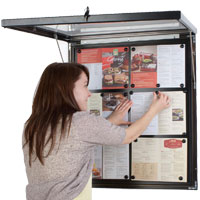 These magnetic bulletin boards are a great choice for posting notices both indoors and outdoors. Our diverse assortment of displays is made of durable metal with a neutral black finish. What makes these magnetic bulletin boards an ideal solution for displaying announcements? The fixtures' sturdy fabrication allows them to be used either indoors or outdoors. Each of the magnetic bulletin boards, or swing-open frames, comes with hidden latches and locks to prevent others from tampering with messaging.
What makes these fixtures unique? The magnetic bulletin boards, as their name suggests, have a magnet receptive surface make changing messages quick and easy. Our elegant black displays can serve as directories for businesses and restaurants to share information or menus. The enclosed notice boards can also be used in classrooms and offices for promoting events and informing passersby. Models are available with a wall mounting or floor standing design for both lobbies, hallways and ordinary rooms. Both setups of the enclosed notice board are easy to install and use. The black bulletin boards fit in with any décor. Use the magnet receptive surface to create unique presentations that can be changed easily.
What are the benefits of using these swing-open frames for classrooms and stores?
The boards are made of anodized aluminum that is both incredibly sturdy and rust resistant.
Their affordable price paired with their long lasting fabrication makes them a great purchase.
Each weather-resistant wall mount or floor stand can be used indoors or outdoors.
The magnet receptive boards can feature more come with a header area for custom printed messaging (not included).
These black framed bulletin boards function well in any retail store, business, classroom or community center. They can keep all messages secure behind their locking doors. Each corkboard additionally comes with a shatter resistant polycarbonate lens that serves as a window for the public to see posted items. Our site offers bulletin boards in a variety of sizes.
What inquiries do I need to answer before I purchase a swing-open frame?
Will my unit be placed in an area with little oversight that would require a lockable display?
Do I usually exhibit large displays that would require a larger unit?
Do I display written messages or memorabilia that requires a corkboard or magnetic back, or do I need a letter board to display room assignments and other similar wisdom?
Do I have a message that I would like to display prominently by using a header that fits into the frame of the unit?
The swing-open frames are an excellent choice for any display need. Their easy-change design makes replacing notices simple and convenient. In addition, the wall mounted units include installation hardware, while floorstanding models require no extra tools.