Looking for "Green" Cork Boards?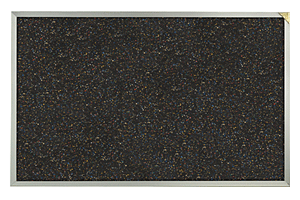 Many of us want to choose the things we buy with one eye on its environmental impact. It's not easy inside an office or school environment, but initiatives are rapidly creating a culture of conservation. The mantra "Recycle everything that can be, while generating less waste" is permeating educational institutions and corporations. One way we are offering customers a choice is with our line of black rubber tackboards. These bulletin boards feature pushpin surfaces made with either 90% post-consumer or 100% post-industrial recycled rubber.
What's the difference?
Once a consumer product has outlived its usefulness, it can be recovered and modified into a new product. Unlike post-industrial waste (which is generated by manufacturing), post-consumer waste is harder to collect and/or separate. However, the purpose of its recycling prevents vast amounts of garbage heading to landfills.
We offer tackboards in both open-face (economy) and locking cabinet (deluxe) styles. The black rubber material is self-healing to lessen the effect of pushpin holes, and it also resists stains and fading. Models with all-black rubber are the post-industrial variety, while the other boards that feature added confetti colors are made from post-consumer waste. When compared with traditional cork, these rubber models are a lot more durable and forgiving and stand up to repeated pinning. Make the Green choice today; these black rubber bulletin boards look sharp in any interior environment!